Windthread I
$38.00 – $212.70
Description
Image Size:   27.5″ x 27.5″
Windthread I
(click on image thumbnail above to view full image)
---
 Artist:
Hilario Gutierrez
On New Year's Day 1994, Hilario faced the monolithic stone temples of Monument Valley, Arizona and recognized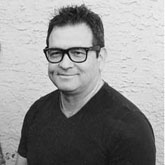 for the first time his true nature. He returned home two days later and began to paint. As an Arizona native with a rich ethnic heritage consisting of Aztec and Yaqui Indian from his maternal side and Austrian from his paternal side, Hilario always identified with the spirit of the American Southwest. This unique identity became evident with his first paintings.
He was drawn to acrylics as his medium and he experimented with color and form. He studied the work of master artists, in particular Gerhard Richter and Dan Namingha, to develop and perfect his technique. Within a year he was selling his work.
Today Hilario's work is available through a number of galleries including Handsel Gallery in Santa Fe, Costello-Childs Contemporary in Scottsdale, Ogilvie/Pertl Gallery in Chicago and Evan Lurie Gallery in Indianapolis. In 2010 Hilario was profiled as a Style Maker in Luxe Interiors + Design Magazine. In May 2009 Hilario opened his first museum exhibition at the West Valley Art Museum (an affiliate of the Phoenix Art Museum) in Surprise, Arizona. In August 2006 his work was reviewed in the Chicago Sun-Times. Hilario has had seven solo shows since 1998; his solo show in October 2001 was featured in the Arts section of the Sunday edition of The Arizona Republic. And, in October 2000, two of his works were selected for the 4th Annual Juried Exhibition by Phoenix's prestigious ArtLink, Inc.
His work has been acquired for corporate collections such as UBS AG, AllianceBernstein LP, McDonalds Corporation, and DMB, Inc. His work is also in a multitude of private collections worldwide.
In April 2009, Hilario published his first book, Chaos On The Canvas – The Art of Hilario. The book features more than 62 pages of text combined with 35 full color images of Hilario's work in an oversized lay-flat format. It allows the reader to explore the vision, depth and theory behind some of his most stunning works.