The City That Never Sleeps I
$38.00 – $212.70
Description
Image Size:   27.5″ x 27.5″
The City That Never Sleeps I
(click on image thumbnail above to view full image)
---
 Artist:
Markus Haub
Born in Mainz, Germany, in 1972, Markus Haub graduated from the University of Applied Arts in Pforzheim in 1997.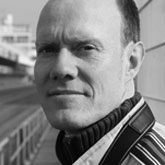 His specialization was transportation design. After finishing his studies he traveled to Barcelona to work for Volkswagen and Renault as a car designer. He has worked at the Volkswagen Design Centre Europe in Sitges and at the Renault Design in Barcelona and Paris for 11 years.
Markus started his artistic career in Barcelona, where he lives now and works as a full-time artist and free-lance designer. His work has been exhibited in numerous galleries in the Catalonian capital and also in France, Germany, Ireland and the UK.
Photography lies in the basement of his work, but it just gives a start to a game of destruction, exaggeration, and conservation of the initial image using a wide range of digital and manual techniques.
After sticking the digitally manipulated photo on canvas or board, he paints over it, covers it with varnishes, and thanks to the little accidents, the result is always a unique original piece in his individual contemporary style.
Markus is inspired by architecture, fashion, cars, of course, and beauty in general. He uses strong colors to project his personal vision into the reality of the original photo.