Lights On The Harbour
$38.00 – $212.70
Description
Image Size:   27.5″ x 27.5″
Lights On The Harbour
(click on image thumbnail above to view full image)
---
 Artist:
Karen Lorena Parker
Karen Lorena Parker is an international artist with works in Bahrain, Dubai, Switzerland, Basel, US and Canada and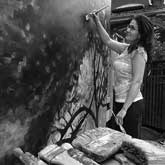 has enjoyed being an artist at Canadian Art Prints. She loves painting large canvases and has always admired the skills of an artist. Karen's technical expertise in painting digitally and traditionally has led her to pursue the art of finding the romantic element of beauty in every art period. Proud to be part of the CAP and Winn Devon family of artists, her artwork is favorite amongst interior designers.
*****************************************************************************************************************************
Né et élevé en Colombie-Britannique, il peint depuis son enfance les oiseaux et animaux de sa province. Plus tard, ses voyages à travers l'Orient et les sanctuaires d'animaux sauvages de l'Amérique du Nord ont contribué à étendre l'horizon et la perspective de ses sujets.
Li-Leger a étudié sa discipline à l'Ecole des Beaux-ARts de Vancouver, l'Université Simon Fraser et le Centre/Ecole des Beaux-Arts de Banff.
Ses oeuvres ont été exhibées un peu partout à travers l'Amérique du Nord et tout particulièrement par l'entremise de la prestigieuse exposition ambulante Leigh-Yawkey Woodson et sont présentes dans plusieurs collections privées.
Li-Leger travaille à partir de sonstudio/domicile de Crescent Beach, Colombie-Britannique qu'il partage avec son épouse Cora, une artiste elle-même.